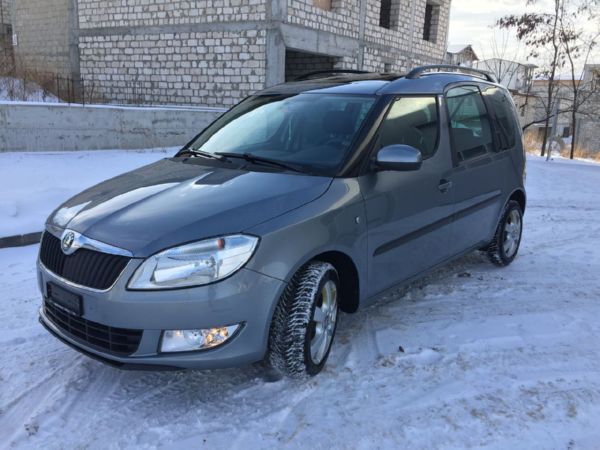 Power steering
Fuel consumption (city) 7,5 liters/100 km
Fuel consumption (highway) 6 liters/100 km
Height adjustable steering column
Front window regulation
Central key
5 passenger seats
Driver and passenger airbag
Audio system
Interior: TEXTILE
Tinted windows
Air conditioning
Front power windows
Anti-lock Brake System (ABS)
Anti-slip Regulation (TCS, ASR, TRC)
The Škoda Roomster (Type 5J) is a MPV-styled leisure activity vehicle, produced by the Czech automaker Škoda Auto. It was revealed as a production model in March 2006 at the Geneva Auto Show,[2] with sales starting in June 2006. It is built at the Škoda factory in Kvasiny, Rychnov nad Kněžnou District.
A five-door two-seat panel van version named the Škoda Praktik has been on sale since March 2007.
In 2014, there was speculation that production would end, and on 30 April 2015 the last Roomster rolled off the production line in Kvasiny. Decreased demand could be blamed on the Yeti.
Engine capacity: 1.2
Fuel: petrol
Air conditioning: yes
Gearbox: manual
Colour: silver
Deposit: 50 €
PRICE for day:
1-2 days: 24 €
3-6 days: 21 €
7-11 days: 19 €
12-30 days: 15 €
31+ days: 13 €