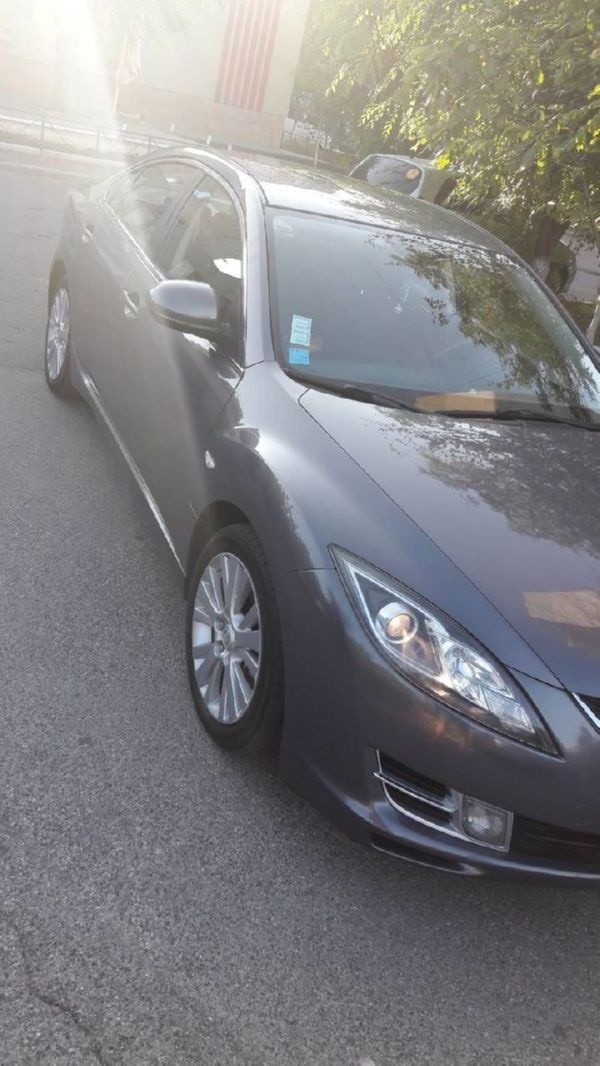 Parking sensors
Cruise control
Audio system
Heated side mirrors
Central key
Interior: LEATHER
Board computer
Tinted windows
Power steering
Power windows
Climate control
Height adjustable steering column
Reach adjustable steering column
Power side mirrors
Anti-lock Brake System (ABS)
Anti-slip Regulation (TCS, ASR, TRC)
Electronic Stability Control (ESP, DSC, VDC, ESC)
Lateral airbag
Immobilizer
Xenon headlights
Fog light
Multifunctional steering wheel
Antitheft alarm
Rain sensor
Driver airbag
Passenger airbag
The Mazda 6 The Mazda 6 or Mazda6 (known as the Mazda Atenza in China and Japan, derived from the Italian attenzione) is a Midsize family produced by the Japanese car manufacturer Mazda since 2002. It replaced the long-produced Mazda Capella (616, 626) in 2002. The Mazda6 sold more than one million units faster than all previous Mazdas.
The Mazda6 was marketed as the first example of the company's Stylish, Insightful, and Spirited design philosophy followed by the Mazda2 in December 2002, the RX-8 in August 2003, the Mazda3 in January 2004, the Mazda5 in the summer of 2005, the MX-5 in October 2005, and the Mazda CX-7 in November 2006. The 2003 Mazda6 is essentially the 6th generation Mazda 626 as the Mazda6 continues on the G Platform, progressing from the GF-platform 626/Capella to the GG-platform Mazda6.
In China, over 680,000 Mazda, including Mazda6 made between September 2008 and January 2016, are recalled due to faulty Takata air bags, an earlier recall of 280,000 Mazda 6 models made between 2003 and 2008 for a similar issue.[2] The recall is issued on the same day Chinese top quality watchdog requested General Motors, Mercedes-Benz and Volkswagen to recall vehicles with faulty air bags in China.
Engine capacity: 2
Fuel: petrol
Air conditioning: yes
Gearbox: automat
Colour: gray
Deposit: 130 €
PRICE for day:
1-3 days: 45 €
4-7 days: 40 €
8-14 days: 37 €
15-20 days: 35 €
21+ days: 32 €
31+ days: 28 €