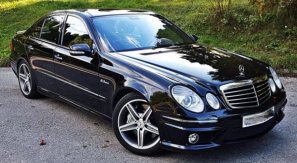 Parking sensors
Cruise control
Audio system
Heated side mirrors
Central key
Interior: LEATHER
Board computer
Tinted windows
Power steering
Power windows
Climate control
Height adjustable steering column
Reach adjustable steering column
Power side mirrors
Anti-lock Brake System (ABS)
Anti-slip Regulation (TCS, ASR, TRC)
Electronic Stability Control (ESP, DSC, VDC, ESC)
Lateral airbag
Immobilizer
Xenon headlights
Fog light
Multifunctional steering wheel
Antitheft alarm
Rain sensor
Driver airbag
Passenger airbag
The Mercedes Benz E 220 is a range of executive cars manufactured by German automaker Mercedes-Benz in various engine and body configurations produced since 1993, marketed worldwide across five generations.
Prior to 1993, Mercedes-Benz offered the same category of car under a non-unified naming structure. The E initially stood for Einspritzmotor (German for fuel injection engine); a new feature in volume production vehicles at the time that the E-Class first appeared, with the E as a suffix to the engine nomenclature (e.g. 230 E) in the 1960s. It was not until the launch of the facelifted W124 in 1993 that the E was used as a prefix (i.e., E 220) and the model referred to officially as the E-Class (or E-Klasse). At this time all Mercedes cars used fuel injection and the company felt it was no longer necessary to add this as a distinguishing feature.
Historically, the E-Class Saloons and Estates is Mercedes-Benz' best-selling model with more than 13 million sold by 2015. Though originally available as 4-door sedan and 5-door station wagon, the W212 series in 2009 debuted a 2-door coupé and 2-door convertible. Before that, the Mercedes-Benz CLK-Class' (1997-2009) design and styling was derived from the E-Class although technically it was based on the mechanical underpinnings of the smaller C-Class. Due to the E-Class's size and durability, it have filled many market segments, frequently serve as taxis in European and Asian countries, and special-purpose vehicles (e.g., police or ambulance modifications) from the factory.
Engine capacity: 2.2
Fuel: disel
Air conditioning: yes
Gearbox: automat
Colour: black
Deposit: 130 €
PRICE for day:
1-3 days: 49 €
4-7 days: 45 €
8-14 days: 40 €
15-20 days: 35 €
21+ days: 30 €
31+ days: 27 €