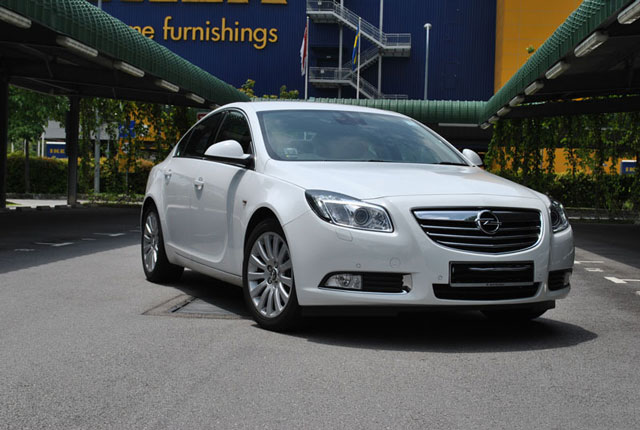 Parking sensors
Cruise control
Audio system
Heated side mirrors
Central key
Interior: LEATHER
Board computer
Tinted windows
Power steering
Power windows
Climate control
Height adjustable steering column
Reach adjustable steering column
Power side mirrors
Anti-lock Brake System (ABS)
Anti-slip Regulation (TCS, ASR, TRC)
Electronic Stability Control (ESP, DSC, VDC, ESC)
Lateral airbag
Immobilizer
Xenon headlights
Fog light
Multifunctional steering wheel
Antitheft alarm
Rain sensor
Driver airbag
Passenger airbag
The Opel Insignia- (from Latin insigne = the emblem/coat of arms) is a large family car engineered and produced by the German automaker Opel. Production of the Insignia began in 2008 as a replacement for the Vectra and Signum. The vehicle is sold under the Vauxhall marque in the United Kingdom, and known as the Buick Regal in China and North America. It was launched in Australia and New Zealand under the Holden marque in 2015.
In Chile, the vehicle was originally due to be marketed as the Chevrolet Vectra, but is now sold as the Opel Insignia. The Insignia made its debut in Australia in 2012, badged as an Opel.[7] but was dropped a year later after the brand was withdrawn from the market. The Insignia is produced in Opel's plant in Rüsselsheim, Germany.
Engine capacity: 2
Fuel: disel
Air conditioning: yes
Gearbox: automat
Colour: white
Deposit: 150 €
PRICE for day:
1-3 days: 55 €
4-7 days: 50 €
8-14 days: 45 €
15-20 days: 40 €
21+ days: 35 €
31+ days: 30 €