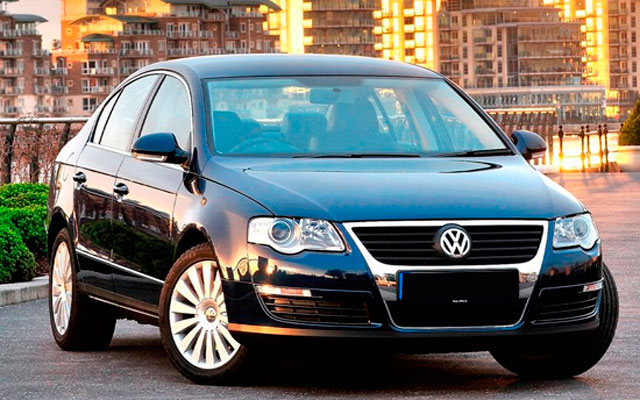 Parking sensors
Cruise control
Audio system
Heated side mirrors
Central key
Interior: LEATHER
Board computer
Tinted windows
Power steering
Power windows
Climate control
Height adjustable steering column
Reach adjustable steering column
Power side mirrors
Anti-lock Brake System (ABS)
Anti-slip Regulation (TCS, ASR, TRC)
Electronic Stability Control (ESP, DSC, VDC, ESC)
Lateral airbag
Immobilizer
Xenon headlights
Fog light
Multifunctional steering wheel
Antitheft alarm
Rain sensor
Driver airbag
Passenger airbag
The Volkswagen Passat is a large family sedan produced by the German manufacturer Volkswagen since 1973, through eight design generations. It is positioned between the Volkswagen Golf (Jetta) and the Volkswagen Phaeton in the current Volkswagen line-up and its derivatives have been badged variously as the Dasher, Santana, Quantum, Magotan, Corsar and Carat. The successive generations of the Passat carry the Volkswagen internal designations B1, B2, etc. which originally ran concurrently with those of the Audi 80 and A4 with which the Passat has shared its engineering platform at certain model generations, although this link has now been severed.
In 2008, Volkswagen extended its range with the launch of the Passat CC, a "four-door coupé" version of the Passat.
Volkswagen currently markets two variants of the Passat globally. In January 2011, Volkswagen announced that the new mid-size sedan (NMS) being built at the Volkswagen Chattanooga Assembly Plant for the North American market would be named the Passat.[1] Shanghai Volkswagen Automotive also manufactures the Passat NMS in its Nanjing factory. The NMS is sold in the North American, South Korean, Chinese, and Middle Eastern markets. The Volkswagen Passat NMS won the 2012 Motor Trend Car of the Year. A new Passat model entered production in Europe in 2014, based on the MQB platform.
Engine capacity: 2
Fuel: petrol
Air conditioning: yes
Gearbox: automat
Colour: black
Deposit: 50 €
PRICE for day:
1-2 days: 30 €
3-6 days: 28 €
7-11 days: 25 €
12-30 days: 23 €
31+ days: 20 €