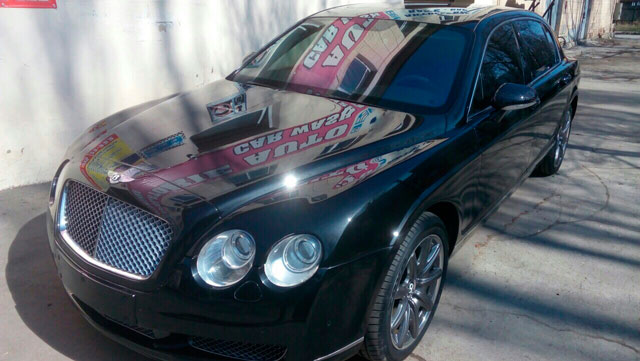 Year: 2007
7 passenger seats
Front/rear camera
Automat Tip-Tronic
Parking sensors
Sun roof
Full power accessories
abs, airbags, srs
Full option
Cruise control
Audio system
Incaldayre scaune din fata
Incaldayre oglinday laterale
Central key
Interior: LEATHER
Board computer
Navigation system / tvd/dvd system
Tinted windows
Power steering
Power windows
Climate control
Reach adjustable steering column
Height adjustable steering column
Oglinday laterale reglabile electric
Power driver seat
Power passenger seat
Anti-lock Brake System (ABS)
Anti-slip Regulation (TCS, ASR, TRC)
Electronic Stability Control (ESP, DSC, VDC, ESC)
Driver and passenger airbag
Lateral airbag
Dispodaytiv anti-furt
Xenon headlights
Fog light
Multifunctional steering wheel
Safety shutters
Antitheft alarm
Rain sensor
Headlight washer
Light sensor
Bentley Motors Limited is a British registered company that designs, develops, and manufactures Bentley luxury motorcars which are largely hand-built. It is a subsidiary of Volkswagen AG. Now based in Crewe, England, Bentley Motors Limited was founded by W. O. Bentley on 18 January 1919 in Cricklewood, North London.
Bentley cars are sold via franchised dealers worldwide, and as of November 2012, China was the largest market.
Most Bentley cars are assembled at the Crewe factory, but a small number of Continental Flying Spurs are assembled at the factory in Dresden, Germany. and bodies for the Continental are produced in Zwickau, Germany.
Bentley won the 24 Hours of Le Mans in 1924, 1927, 1928, 1929, 1930, and 2003.
Iconic Bentley models include the Bentley 4½ Litre, Bentley Speed Six, Bentley R Type Continental, Bentley Turbo R, and Bentley Arnage. As of 2015, Bentley produce the Continental Flying Spur, Continental GT, Bentley Bentayga and the Mulsanne.
PRICE:
5 hours: 150 €
8 hours: 200 €
*with a driver only