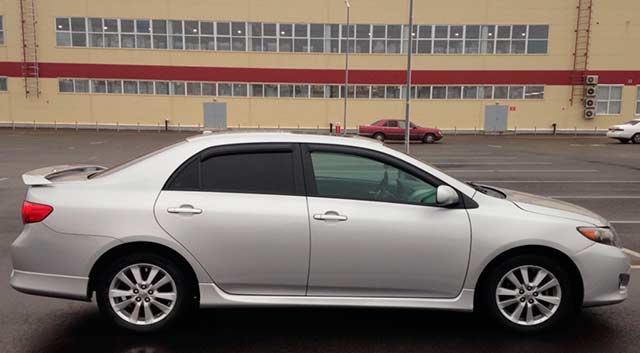 Cruise control
Audio system
Heated front seats
Heated side mirrors
Central key
Board computer
Tinted windows
Power steering
Power windows
Climate control
Height adjustable steering column
Reach adjustable steering column
Power side mirrors
Interior: TEXTILE
The Toyota Corolla — is a line of subcompact and compact cars manufactured by Toyota. Introduced in 1966, the Corolla managed to become the best-selling car worldwide by 1974[1] and has been one of the best-selling cars in the world since then. In 1997, the Corolla became the best selling nameplate in the world, surpassing the Volkswagen Beetle.[2] Toyota reached the milestone of 40 million Corollas sold over eleven generations in July 2013.[3] The series has undergone several major redesigns. The name Corolla is part of Toyota's naming tradition of using names derived from the Toyota Crown for sedans. The Corolla has always been exclusive in Japan to Toyota Corolla Store locations, and manufactured in Japan with a twin, called the Toyota Sprinter until 2000. In Japan and much of the world, the hatchback companion since 2006 is called the Toyota Auris. Prior to the Auris, Toyota used the Corolla name on the hatchback bodystyle in various international markets. Early models were mostly rear-wheel drive, while later models have been front-wheel drive. The Corolla's traditional competitors have been the Nissan Sunny, introduced the same year as the Corolla in Japan and the later Honda Civic. The Corolla's chassis designation code is "E", as described in Toyota's chassis and engine codes.
Engine capacity: 1.6
Fuel: petrol
Air conditioning: yes
Gearbox: automat
Colour: silver
Deposit: 50 €
PRICE for day:
1-2 days: 28 €
3-6 days: 26 €
7-11 days: 23 €
12-30 days: 20 €
31 days: 17 €